It has been a week of sneezing and coughing-my-lungs-out – okay, maybe not lungs but I almost coughed all my food out a few times! Seriously annoying.
Finally got the book in my hand after making a reservation for it! Loved the movie and I thought most of the times book is better, so I was looking forward to read it! And boy~ It is addictive!

Who gives random photos as Christmas card, seriously?! But at least I got someone that I like; Ping got Ping Hui, whom she has no interest in at all, while Ally was worse – she got a random Malaysian actor's photo…LOL.

Morning walks ((:
Hoping to see the Christmasy garden lighting up at night too!!!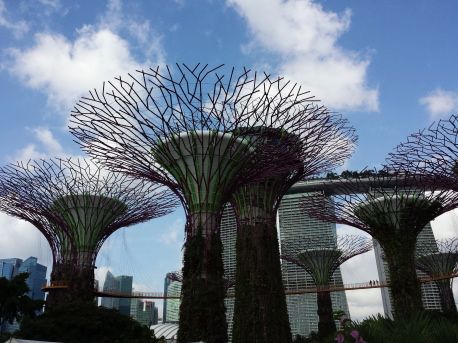 Finally had our first gathering ever since the guys left! Still so much nonsense from them even before we met up -_-"
Joke of the night:
Uncle J: *contemplating whether to order his usual Oolong tea or not* That day I was at the coffeeshop drinking Oolong then this uncle suddenly came over and told me, "小弟,你不要喝这么多,等下站不起来。"

Me: Oh yah… 会脚软~

Uncle J: Oh! You mean like really 站不起来 ah?! CHEY!!!!! I thought he meant it the other way (impotent)! Okay, then I order!
LOLOLOLOLOLOL!!!
Really tempted to get a selfie stick too!!! Hahaha!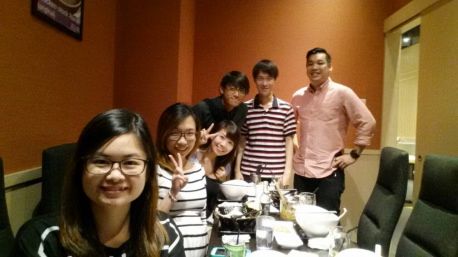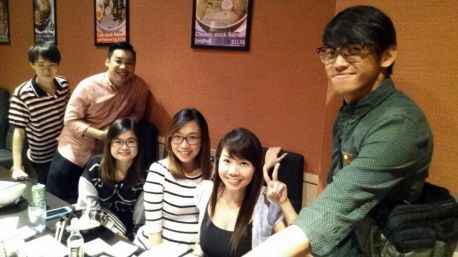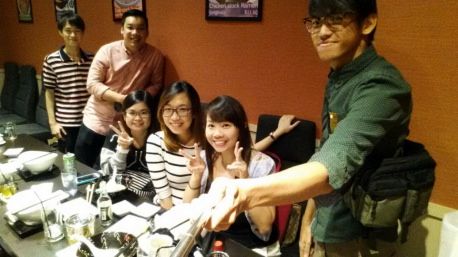 Everyone's super duper full so we decided to go for some gift-shopping in aid of digestion. Walked till our legs were tired but still couldn't find anything in the end! D:
The guys were so delighted when we announced to take a break from shopping and sit down somewhere for tea! Hahaha! So much for complaining about no girlfriend = no shopping!
D: My shirt is from Zalora~

K: My shoes also from Zalora~

Me: Huh! You guys shop online one meh?

D: No choice lah… No girlfriend, can only stay at home.

Me: Yah right -.- When you have girlfriend you will complain and say "Huh…don't go out lah… So crowded everywhere… We stay at home today okay~"

D: Eh..you my girlfriend before is it?
LOLOL. But it's true what! Don't guys always complain about going out -_-"